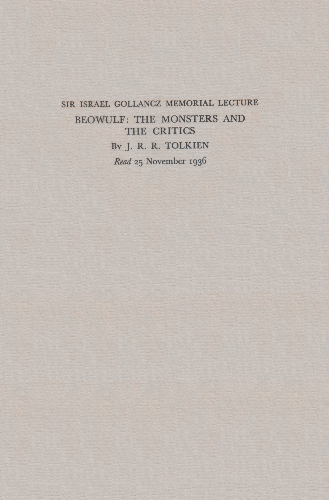 Beowulf: The Monsters and the Critics.
J.R.R. Tolkien.
Undated, but possibly c.1969.
Publisher unknown.
Place of publication unknown.
ISBN: None.
Booklet.
Not illustrated.
Page Ref.: None.

Notes
Beowulf: The Monsters and the Critics was the Sir Israel Gollancz Memorial Lecture for 1936. Tolkien delivered it to the British Academy on 25 November 1936 and again two weeks later to the Manchester Mediaeval Society.

Binding - One signature of fifty-two pages stapled into card wrappers. (23.4 x 15.6 cm)

This booklet is probably not a British Edition, but is sometimes confused with the First Edition of 1937 because no publication details are stated. The pagination and signature numbering are identical to those used in library editions published in the United States by Folcroft, Arden and others. The simplest way to distinguish this edition from the British edition is by the page numbering - pp.3-53 in the British edition as opposed to pp.1-51 here.

The first of these library editions appeared in 1969, and this booklet seems to be related to that first American Edition, or to one of the subsequent reprints. The later reprints include:

Folcroft Press Edition 1969
Folcroft Library Edition 1972
Folcroft Library Edition 1972 (Ltd Edition of 100 copies)
Folcroft Library Edition 1974 (Ltd Edition of 100 copies)
Norwood Edition 1975
Norwood Edition 1976
Norwood Edition 1977
Richard West Edition 1977
Arden Library Edition 1978
Arden Library Edition 1980 (Ltd Edition of 150 copies)
Folcroft Library Edition 1985 (Ltd Edition of 100 copies)

Also reprinted in The Monsters and the Critics and Other Essays (1983).

If you are looking for new, secondhand or out-of-print books then AbeBooks UK may be able to help.
Alternatively, you can search and order through AbeBooks.com.