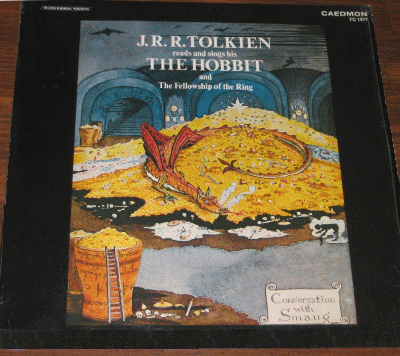 J.R.R. Tolkien reads and sings his The Hobbit and The Fellowship of the Ring.
J.R.R. Tolkien.
1st Issue 1975.
Caedmon.
London/New York.
TC 1477.
LP Record.
Sleeve illustration by J.R.R. Tolkien.
Page Ref.: p.384-5.

Notes
Includes J.R.R. Tolkien reading from Chapter 5 of The Hobbit (Riddles in the Dark) and from The Fellowship of the Ring. A more complete list of contents will appear shortly.

Also issued on cassette (CDL 51477).

The sleeve includes notes by Ward Botsford and George Sayer.

Only the first issues of Tolkien recordings are included in the bibliography at present - Further details will appear at a later date.
If you are looking for secondhand or out-of-print books then ABEbooks may be able to help.
Use the search box below to get yourself going.