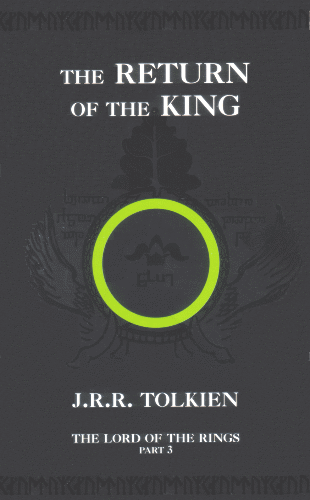 The Return of the King.
J.R.R. Tolkien.
1999 Edition, 17th(?) Impression.
HarperCollins.
London.
ISBN 0261102370.
Paperback.
Cover design based on artwork by J.R.R. Tolkien.
Page Ref.: None.

Notes
The map of The West of Middle-earth at the End of the Third Age and the Map of Gondor, Rohan and Mordor appear spread over the final pages. The maps were redrawn by Stephen Raw in 1994.

Introduced no earlier than the 17th Impression and no later than the 27th Impression. Still in use for the 63rd Impression and possibly until the 64th Impression.

For earlier impressions the cover titles are in silver rather than white.

The cover design was modified in 2007 with the 65th Impression and the text was reset.
If you are looking for secondhand or out-of-print books then ABEbooks may be able to help.
Use the search box below to get yourself going.