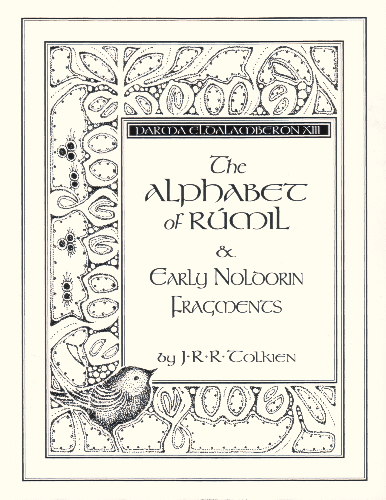 The Alphabet of Rúmil and Early Noldorin Fragments by J.R.R. Tolkien.
Parma Eldalamberon XIII.
Edited by Christopher Gilson.
Issue 13. 2001.
The Elvish Linguistic Fellowship.
Cupertino.
ISBN: None.
Paperback.
Cover illustrations by Adam Christensen.
Page Ref.: None.

Notes
Two impressions issued:

1st Impression 2001
2nd Impression 2005

Printed in December 2001, but not published until 3 January 2002 – the Professor's birthday! Page 152 appears twice in First Impression copies - at the expense of page 148 which was added later as an insert. Reprinted in April(?) 2005 with the correct pagination.

The journal is divided into two parts:

The Alphabet of Rúmil (edited by Arden R. Smith) includes twenty six examples of the Rúmilian Alphabet. The fragments are of varying length and date, most of which are reproduced in facsimile together with extensive commentary by the editor. (See pp.3-89)

Early Noldorin Fragments (edited by Christopher Gilson, Bill Welden, Carl F. Hostetter and Patrick Wynne) draws together eight documents that are all concerned with early developments in the Noldorin language. These include a variety of word-lists, a grammar and a dictionary. Three heraldic devices, representing Great Hayward, Warwick and Cheltenham, are reproduced in facsimile. (See pp.91-166)

If you are looking for new, secondhand or out-of-print books then AbeBooks UK may be able to help.
Alternatively, you can search and order through AbeBooks.com.