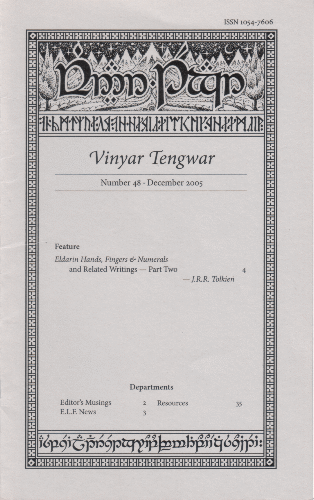 Vinyar Tengwar
Edited by Carl F. Hostetter
Issue 48, December 2005
The Elvish Linguistic Fellowship
Crofton
ISSN 10547606
Magazine
Cover illustration by Patrick Wynne
Page Ref.: None

Notes
Dated December 2005, but issued in January 2006.

Includes Eldarin Hands, Fingers & Numerals and Related Writings - Part Two, edited by Patrick H. Wynne. This is Parts II and III of a four-part collection of late texts (c.1968).

Part II includes:

Synopsis of Pengoloð's Eldarinwe Leperi are Notessi - this provides names for fingers and numerals 1-12, and gives an account of the document's rescue from the destruction of Númenor. It is followed by Appendices discussing the numbers 6, 11 and 12, as well as Quenya fractions.

Part III includes:

Variation D/L in Common Eldarin gives information on Eldarin base structure, and is followed by The Problem of Lhûn, a collation (with commentary) of Tolkien's notes on the etymology of the river-name.