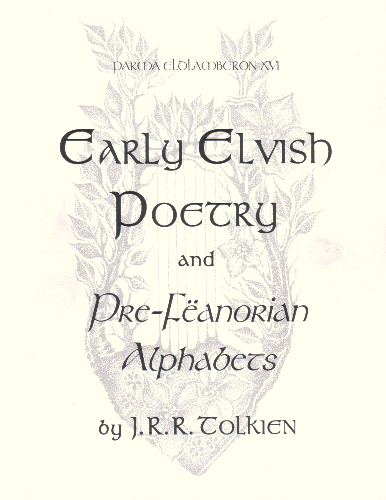 Early Elvish Poetry and Pre-Fëanorian Alphabets by J.R.R. Tolkien
Parma Eldalamberon XVI
Edited by Christopher Gilson
Issue 16, 2006
The Elvish Linguistic Fellowship
Cupertino
ISBN: None
Paperback
Cover illustrations by Adam Christensen
Page Ref.: None

Notes
This is a collection of early writings by Tolkien concerning his invented languages and scripts - edited for publication with commentary by Patrick H. Wynne, Christopher Gilson, Carl F. Hostetter, Bill Welden and Arden R. Smith.

It includes:

Pre-Fëanorian Alphabets, Part 1 - Reproduces all known examples of the the Qenyatic, Falassin and Noraic groups of alphabets.

Early Elvish Poetry - Collects together previously unpublished versions and translations of the Elvish poems Oilima Markirya, Nieninqe and Earendel.

Qenya Declensions - Tables of declensions for a variety of Qenya nouns.

Qenya Conjugations - Tables of conjugatons for the Qenya verb tul-.

Qenya Word-lists - A basic Qenya vocabulary (associated with the early Elvish poems noted above) consisting of about 170 words organised into numerous categories.