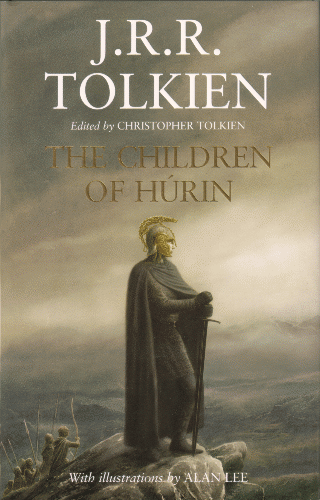 The Children of Húrin
J.R.R. Tolkien
Edited by Christopher Tolkien
1st Edition 2007
HarperCollins
London
ISBN 10: 0007246226
ISBN 13: 9780007246229
Hardback in dustwrapper
Illustrated by Alan Lee
Page Ref.: None

Notes
Includes a fold-out map on an integral leaf at rear showing only the north-west section of the standard map of Beleriand by Christopher Tolkien. Also includes eight colour plates and numerous black and white illustrations by Alan Lee.

At least twelve impressions issued. The size of the First Impression is thought to have been 240,000 copies, while the Second Impression was smaller at 100,000 copies.

According to information gathered by TolkienLibrary.com from HarperCollins and Houghton Mifflin, Christopher Tolkien signed approximately 900 adhesive book plates, which were to be added to the front endpaper of some copies of the book.

The distribution of these appears to have been:

550 to Houghton Mifflin - signed by both Christopher Tolkien and Alan Lee. 450 of these were inserted into copies of the First Edition purchased at a release day event in New York. Presumably the rest were prizes for competitions and for private distribution.

Approximately 200 to Harper Collins - Initially only signed by Christopher Tolkien, some were later signed by Alan Lee and other people present at events held to promote the release of the book. These book plates were inserted into copies of both the Trade Edition and the Deluxe Edition, but the relative proportions are unknown.

Approximately 150 remaining - Inserted into copies for private distribution by the Tolkien Estate, and for use by HarperCollins as review copies and prizes for competitions.