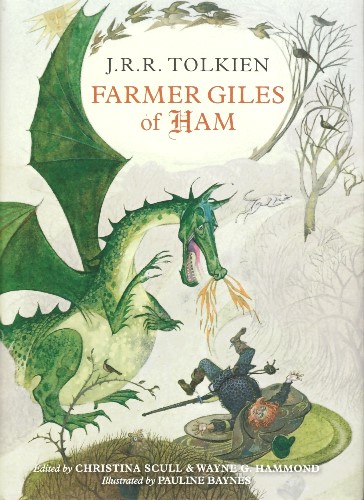 Farmer Giles of Ham
J.R.R. Tolkien
Edited by Christina Scull & Wayne G. Hammond
Pocket Edition 2014
HarperCollins
London
ISBN 9780007542932
Hardback in dustwrapper
Illustrated by Pauline Baynes
Page Ref.: None

Notes
Reproduces the text and illustrations of the First Edition of 1949 in facsimile, including the colour plates.

The original dustwrapper artwork is also reproduced in black and white along with the additional artwork originally produced for Poems and Stories (1980).

The cover illustration first seen on the 2nd Edition 1976 appears on the endpapers and in a slightly modified form on the dustwrapper.

This edition also includes a map of the Little Kingdom by Pauline Baynes, an Introduction and Notes by the Editors, the first written (manuscript) version of the story, as well as an unfinished sequel.