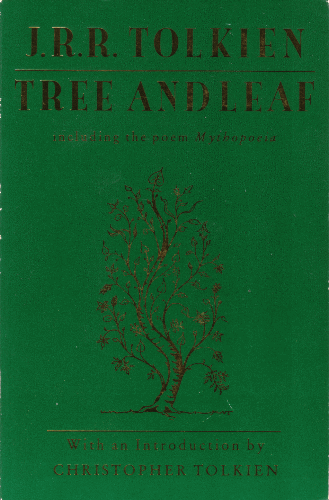 Tree and Leaf
J.R.R. Tolkien
2nd Edition 1988
Unwin Paperbacks
London
ISBN 0044402538
Paperback
Cover illustration by J.R.R. Tolkien
Page Ref.: pp.194-195

Notes
Brings together Tolkien's essay/lecture On Fairy Stories (first published in Essays Presented to Charles Williams, 1947) with his short story Leaf by Niggle (first published in The Dublin Review, 1945).

This edition also includes the previously unpublished complete text of the poem Mythopoeia.

Two impressions issued:

1st Impression 1988 - 10,000 copies printed
2nd Impression 1989

The cover of this book is very difficult to photograph or scan due to the dark green background and gold lettering. It has been necessary to lighten the image opposite to aid clarity.