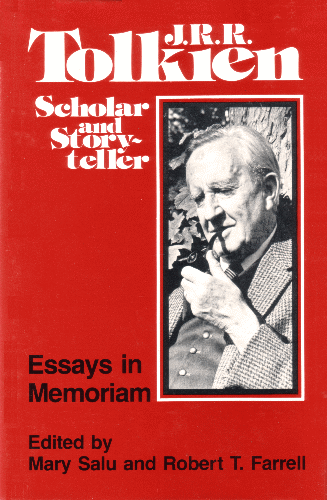 J.R.R. Tolkien: Scholar and Storyteller
Essays in Memoriam
Edited by Mary Salu and Robert T. Farrell
1st Edition 1979
Cornell University Press
Ithaca / London
ISBN 080141038X
Hardback in dustwrapper
Not illustrated
Page Ref.: pp.339-340

Notes
This anthology was published as a tribute to Tolkien - both an academic and as an author.

It includes Tolkien's Valedictory Address to the University of Oxford. This was delivered at Merton College Hall on 5 June 1959 and marked his retirement from the university.

1.560 copies printed.

Not reprinted.

A slightly amended version of the address can be found in The Monsters and the Critics and Other Essays (1983).

Also includes:

1) Professor J.R.R. Tolkien: Creator of Hobbits and inventor of a new mythology - Tolkien's obituary notice, as printed in The Times, 3 September 1973.

2) The Man and the Scholar - A reminiscence by S.T.R.O. d'Ardenne.

3) Handlist of the Published Writings of J.R.R. Tolkien - Compiled by Humphrey Carpenter.