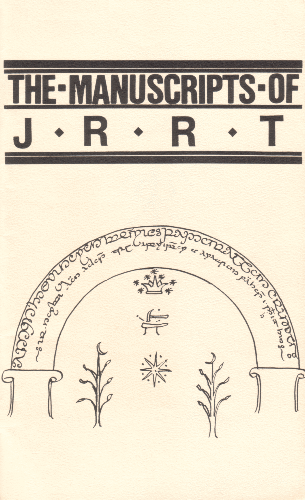 Catalogue of an Exhibit of the Manuscripts of J.R.R.T
Edited by Taum Santowski
1st Edition 1984
Marquette University
Milwaukee
ISBN: None
Exhibition catalogue
Illustrated by J.R.R. Tolkien
Page Ref.: pp.374-375

Notes
Issued in June 1984 to attendees of The Road Goes Ever On conference at Marquette University in 1983. The exhibition was held on 12-23 September 1983.

Reproduces five extracts from The Lord of the Rings manuscripts:

1) A draft version of The West Gate of Moria - Upper cover.

2) Orthanc and Isengard - a sketch – see p.15.

3) Map of Anorien and Minas Tirith - a sketch map – see p.21.

4) Draft of the Ring-Inscription - in tengwar – see p.27.

5) The Lord of the Rings – Herumillion - a tengwar inscription – see p.27.

The catalogue also uses short quotes from the manuscripts as titles for each item.