In a letter to Naomi Mitchison, J. R. R. Tolkien once commented that "I wisely started with a map". Ferguson Dewar also followed this principle when producing his drawings to accompany the serialization of The Hobbit in Princess magazine in 1964.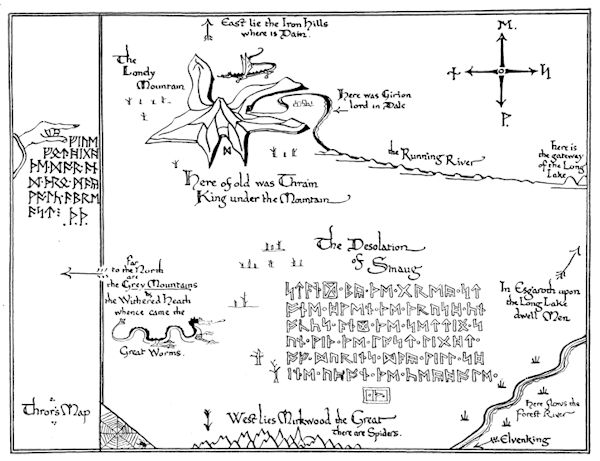 Thror's Map by Tolkien (above) and by Dewar (below).
The reproduction is fairly accurate, although there are some errors in the runes and Thrain has been misspelt.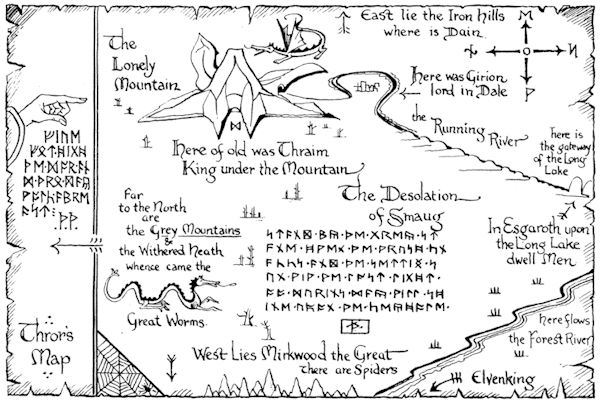 Artists working freelance for magazines during the 1960s and 70s needed to work quickly because pay rates were low. As a commercial illustrator, time was money to Ferguson Dewar, so any tools or processes that saved time, without sacrificing the product, would be utilized. Copying or adapting a drawing or photograph meant that the artist did not need to make preparatory sketches before starting work on the final illustration. Tolkien's own artwork for The Hobbit was a natural source of inspiration for the Princess serial, as can be seen from the examples here.
Beorn's Hall by Tolkien (above left) and by Dewar (above right).
The Mountain-path by Tolkien (below left) and by Dewar (below right).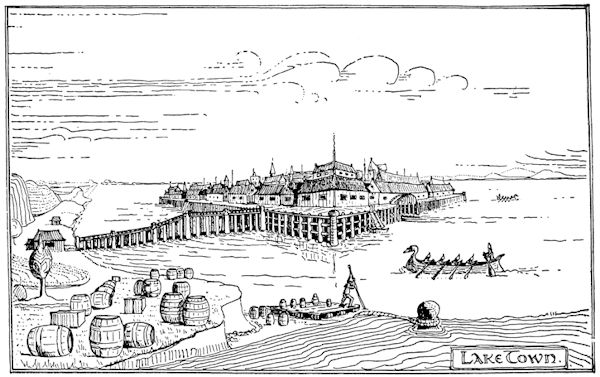 Lake Town by Tolkien (above) and by Dewar (below).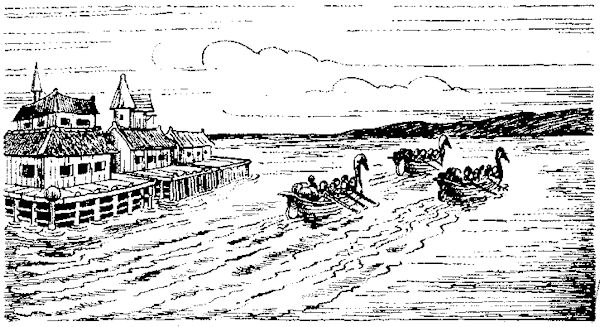 It does not do to leave a live dragon out of your calculations
Tolkien's painting, Conversation with Smaug, was almost unknown in the UK in 1964, because it did not become a permanent feature of the British hardback edition of The Hobbit until 1966, and had only appeared in a single printing of the book in 1937. However, among John Tenniel's illustrations for the original editions of Alice's Adventures in Wonderland and Through the Looking Glass there is a portrayal of the Jabberwock. In the absence of any pictures by Tolkien, Dewar appears to have used this as a template for one of his three drawings of Smaug. Interestingly, the jacket blurb for the first edition of The Hobbit commented on similarities between Alice and The Hobbit, despite Tolkien's objections.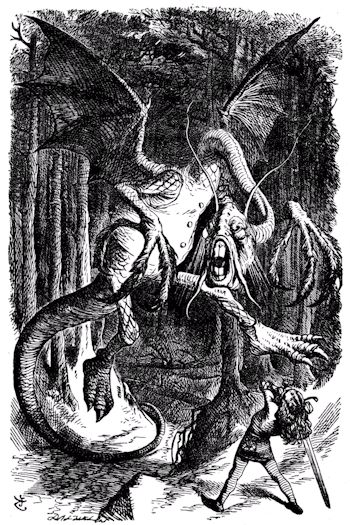 The Jabberwock by John Tenniel (above) and
The black arrow sped straight for Smaug by Ferguson Dewar (below).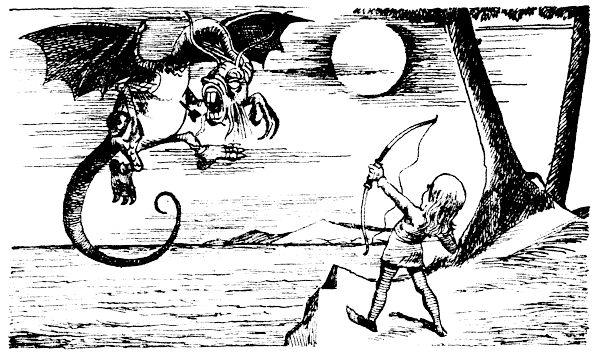 If you are looking for new, secondhand or out-of-print books then AbeBooks UK may be able to help.
Alternatively, you can search and order through AbeBooks.com.