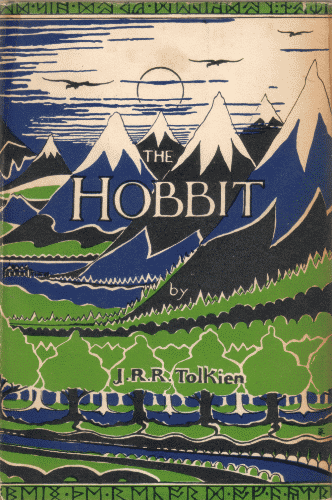 The Hobbit
J.R.R. Tolkien
2nd Edition, 5th Impression 1951
George Allen & Unwin
London
ISBN: None
Hardback in dustwrapper
Illustrated by J.R.R. Tolkien
Page Ref.: pp.21-24

Notes
All impressions are broadly similar and feature Thror's Map and the Map of Wilderland on the endpapers. A colour frontispiece is included in most cases* in addition to the standard eight black and white illustrations. A brief introduction is included before the first chapter giving details of changes made to the text in 1951 and discussing an apparent contradiction in the use of the name Thrain.

When the Second Edition was issued the impression numbering was continued on from the First Edition, i.e. starting from the 5th not from the 1st Impression. The impressions were not re-numbered until 1968.

There were eleven impressions of the Second Edition printed between 1951 and 1965. Many later editions of The Hobbit mis-report both the number and the year of these impressions.

The impression numbers and years were:

5th Impression 1951 – 1,800 copies**
6th Impression 1954 – 2,500 copies
7th Impression 1955 – 2,502 copies
8th Impression 1956 – 3,055 copies
9th Impression 1957 – 2,986 copies
10th Impression 1958
11th Impression 1959
12th Impression 1961
13th Impression 1961
14th Impression 1963
15th Impression 1965

* The frontispiece was omitted from the 15th Impression.

** Wayne Hammond's bibliography gives a figure of 3,500. This appears to be an error - 3,500 was the total quantity printed. 1,000 copies were produced early in 1951 with Houghton Mifflin imprint throughout, while another 726 copies were produced for Houghton Mifflin in March 1953 in HM bindings with A&U title pages and dustwrappers. The remaining 1,800 copies were issued by Allen & Unwin.

For further details see Printing and Binding The Hobbit.