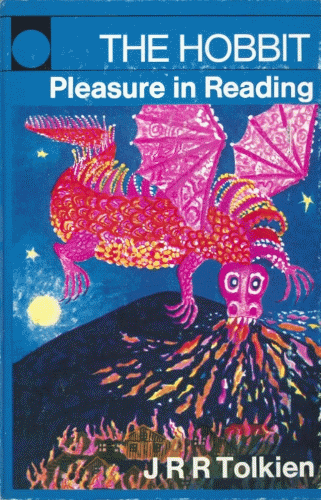 The Hobbit
J.R.R. Tolkien
Pleasure in Reading Edition 1968
Longmans
London
ISBN 0582186552 (from 1970)
Hardback
Cover illustrator unknown
Page Ref.: p.39

Notes
Both impressions are broadly similar*, featuring Thror's Map and the Map of Wilderland on the endpapers. Tolkien's black and white illustrations are not included.

Reprinted in 1970.

Produced for the Primary School market.

Longmans originally intended to use Tolkien's Death of Smaug illustration on the cover of this edition. Rayner Unwin raised concerns about this because he wanted to avoid any confusion between the Longmans edition and the Unwin Books paperback. He suggested they use only part of the illustration or one of Tolkien's other Hobbit illustrations instead. Longmans took the first option and their proposed cover design was sent to Tolkien for his approval. There is no record of his reply, but it seems possible that he did not give his consent because the published book features a cover illustration by an unidentified artist.

* The publisher's name is given as 'Longmans' on the spine of the 1st Impression and as 'Longman' on the 2nd Impression.