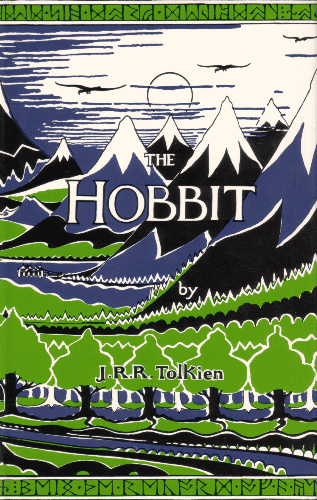 The Hobbit
J.R.R. Tolkien
4th Edition, 6th Impression 1988
Unwin Hyman
London
ISBN 0048231479
Hardback in dustwrapper
Illustrated by J.R.R. Tolkien
Page Ref.: pp.54-55

Notes
Features Thror's Map and the Map of Wilderland on the endpapers. Includes five colour illustrations in addition to the eight standard black and white illustrations.

The ISBN for the Unwin Hyman 50th Anniversary Edition (ISBN 0048233862) appears on the verso of the title page in error.

The blurb on the front flap of the dustwrapper refers to the Foreword written by Christopher Tolkien for the 50th Anniversary Edition, but this is not included in this edition. Two impressions issued:

6th Impression 1988
7th Impression 1990

The only discernable difference between the two impressions is that the 6th is 22.8cm high and the 7th is 22.6cm high. Due to this, the white border on the edges of the dustwrapper on the 7th Impression has been trimmed away.