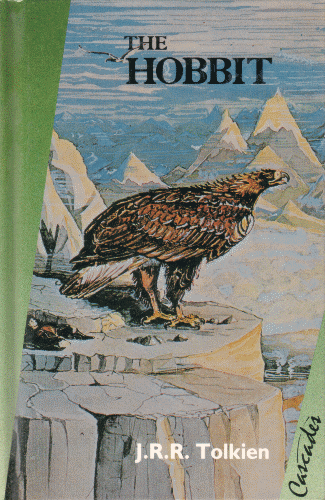 The Hobbit.
J.R.R. Tolkien.
Cascades Edition, 1st Impression 1993.
Collins Educational.
London.
ISBN 0003300900.
Hardback.
Illustrated by J.R.R. Tolkien.
Page Ref.: None.

Notes
Features Throrís Map and the Map of Wilderland on the endpapers. Also includes the eight standard black and white illustrations.

There were five impressions issued, all essentially identical:

1st Impression 1993
2nd Impression 1994
3rd Impression 1995
4th Impression 1996
5th Impression 1997

Copies of the Third Impression were included in the Tolkien Teaching Pack issued by HarperCollins in 1995.

This A4 sized boxed set included a copy of The Hobbit, the J.R.R. Tolkien Landseer video and some looseleaf Tolkien Teaching Notes by John Mannion.