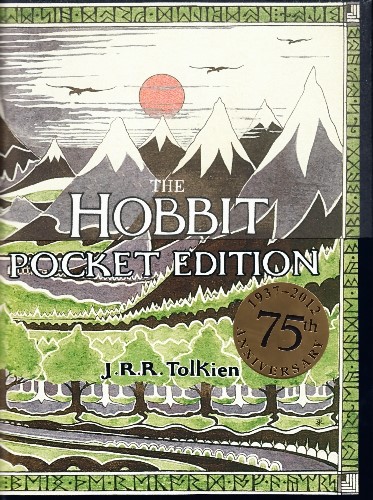 The Hobbit
J.R.R. Tolkien
Pocket Edition 2011
HarperCollins
London
ISBN 9780007440849
Hardback in dustwrapper*
Illustrated by J.R.R. Tolkien
Page Ref.: None

Notes
Features Thror's Map and the Map of Wilderland on the endpapers. Includes the black and white Mirkwood illustration and the eight standard black and white illustrations.

Includes a preface excerpted from Christopher Tolkien's foreword to the 50th Anniversary Edition of The Hobbit. The excerpt lacks the illustrations.

Also includes Chapter One from The Lord of the Rings.

The 1st Impression was mostly exported for sale overseas, but some copies were sold in the U.K.

22,000 copies were printed of both the 1st and 2nd Impressions.

*The 1st, 2nd and 3rd Impressions (at least) were issued with a second half-height dustwrapper that indicated this was a pocket edition issued to mark the 75th anniversary of the publication of The Hobbit.