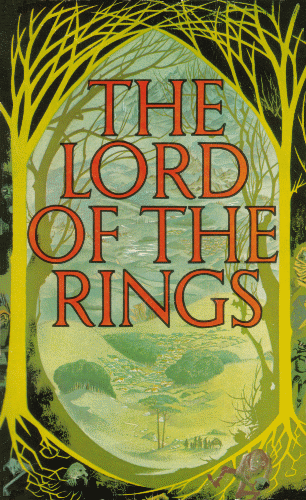 The Lord of the Rings.
J.R.R. Tolkien.
1st One Volume Edition, 12th Impression 1973.
George Allen & Unwin.
London.
ISBN 0048230871.
Paperback.
Cover illustration by Pauline Baynes.
Page Ref.: pp.141-143.

Notes
The map showing A Part of The Shire appears on page 30. The 1954 version of the map of The West of Middle-earth at the End of the Third Age is present in full on page 6 as well as appearing spread over five integral pages. The Map of Gondor, Rohan and Mordor appears on pages 774-775.

This edition only includes a brief excerpt from the Appendices - A Part of the Tale of Aragorn and Arwen from the Annals of the Kings and Rulers.

For the 12th Impression further minor changes were made to the cover design to strengthen the lettering – compare with the 11th Impression 1972.

Seven impressions issued, all similar:

12th Impression 1973
13th Impression 1973
14th Impression 1974
15th Impression 1975
16th Impression 1976
17th Impression 1977
If you are looking for secondhand or out-of-print books then ABEbooks may be able to help.
Use the search box below to get yourself going.