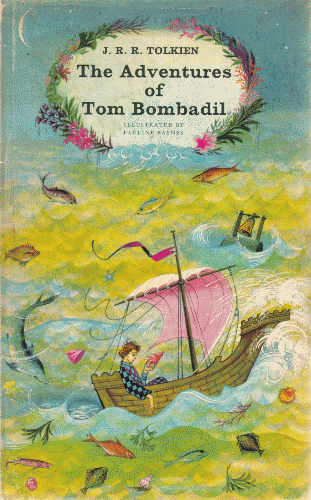 The Adventures of Tom Bombadil
J.R.R. Tolkien
1st Edition 1962
George Allen & Unwin
London
SBN 048210196 (from 1968)
ISBN 0048210196 (from 1971)
Hardback in dustwrapper
Illustrated by Pauline Baynes
Page Ref.: pp.176-180

Notes
There were nine impressions of the 1st Edition, minor differences noted below:

1st Impression 1962 - 10,600 copies printed
2nd Impression 1962 - 5,000 copies printed? Order of poems altered - Cat moved to follow Fastitocalon
3rd Impression 1968 - 7,500 copies printed
4th Impression 1969
5th Impression 1971
6th Impression 1972
7th Impression 1973
8th Impression 1974 - price-clipped copy seen with new price printed on front flap.
9th Impression 1975 - promotional material seems to show that some later issued copies of this impression were issued without a dustwrapper (to match the 2nd Editions of Smith of Wootton Major and Farmer Giles of Ham). What can be said with some certainty is that many price-clipped copies are also in circulation.

Later impressions state that the 1st Impression was issued in 1961. This error has been seen in the 4th-9th Impressions (1969-1975). Earlier impressions correctly state 1962.