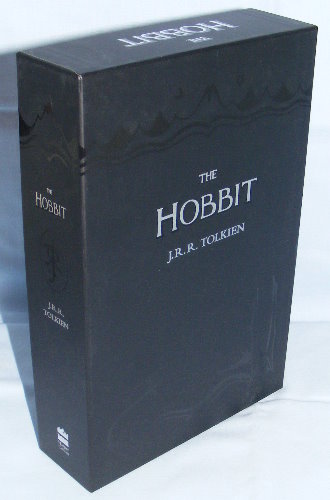 The Hobbit
J.R.R. Tolkien
Collector's Box Edition 2000
HarperCollins
London
ISBN 0261102001*
Hardback - Issued in a box
Cover design based on artwork by J.R.R. Tolkien
Page Ref.: None

Notes
Features Thror's Map and the Map of Wilderland on integral pages, together with the eight standard black and white illustrations.

Also includes Chapter One from The Lord of the Rings.

This limited edition collector's box included a copy of the book, a CD recording of Tolkien reading Riddles in the Dark', eight postcards and The Map of Tolkien's The Hobbit.

* ISBN 0261102001 is recorded on the verso of the title page of the book. This would seem to be an error, because the same number was used for the 1991 Hardback Edition of The Hobbit.

The boxed set itself has a separate ISBN - 0007105096.

At least three impressions were issued, all with similar box contents.

The boxed set including First Impression copies also included a flyer advertising Peter Jackson's Lord of the Rings films.

The book can be seen here.