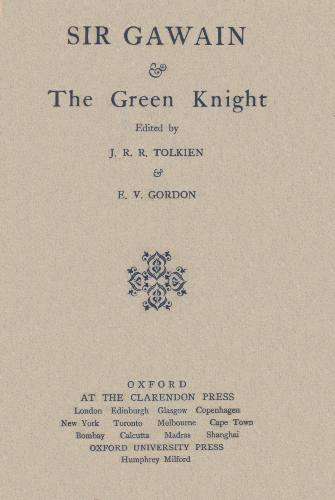 Sir Gawain and the Green Knight
Edited by J.R.R. Tolkien and E.V. Gordon
1st Edition, 1st Impression 1925
Oxford University Press
London
ISBN: N/A
Hardback in dustwrapper
Frontispiece - The Lady of the Castle visits Sir Gawain
Page Ref.: p.285

Notes
2,500 copies printed.

Sir Gawain and the Green Knight is a scholarly edition of the Middle English romance. Tolkien was responsible for the glossary and for the text of the poem, while Gordon produced the majority of the accompanying notes.

Page edges untrimmed.

Stamped ornament and border on upper board are in gilt.

Logo present on spine of binding.

Variants have been seen both with and without tissue guards over the plates.

A (later?) variant has been seen with adverts at the rear dated August 1925.