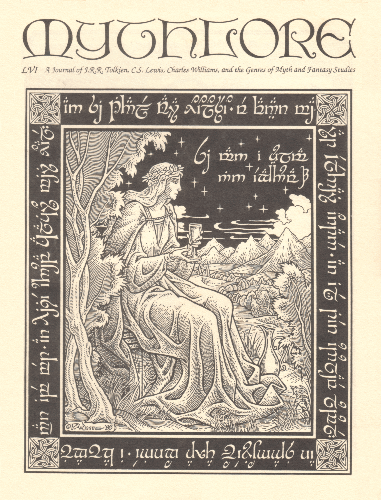 Mythlore
Edited by Glen Goodknight
Issue 56, Vol.15, No.2
Winter 1988
The Mythopoeic Society
Los Angeles
ISSN 01469339
Magazine
Cover illustration by Patrick Wynne
Page Ref.: p.329

Notes
Includes Narqelion: A Single, Falling Leaf at Sun-fading, an article by Paul Nolan Hyde that gives the full text of the Elvish poem Narqelion. See pp.47-52.

Four lines had been published previously in J.R.R. Tolkien: A Biography.

The poem is also reproduced in a computer tengwar font on the lower cover.

Part of the article was reprinted in Vinyar Tengwar 6, see pp.12-13.