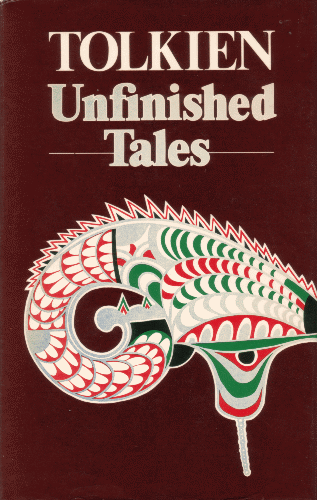 Unfinished Tales of Númenor and Middle-earth
J.R.R. Tolkien
Edited by Christopher Tolkien
1st Edition 1980
George Allen & Unwin
London
ISBN 0048231797
Hardback in dustwrapper
Cover design based on artwork by J.R.R. Tolkien
Page Ref.: pp.233-234

Notes
A map of Númenórë is located opposite page 168. The 1980 version of the map of The West of Middle-earth at the End of the Third Age is inserted on a fold-out sheet at rear.

Seven impressions issued, all similar:

1st Impression 1980
2nd Impression 1980
3rd Impression 1980
4th Impression 1981
5th Impression 1981
6th Impression 1982
7th Impression 1984

The first three impressions combined totalled 44,000 copies.

All copies of dustwrapper lacked a printed price - the price was added on a label.

Several copies have been seen with the first part of each letter on the left hand side of page 234 cropped. One of these copies was a review copy, so this variant may have priority of issue.

The shades of brown, blue, red and green inks used on the dustwrapper vary from impression to impression. Fading of the blue ink on the dustwrapper to a pale grey-green colour is especially common. Unusually this fading can even extend to the front flap which suggests that the fading is not entirely due to exposure to light. A faded variant is shown opposite, while the unfaded variant is illustrated in the bibliography entry for the Unwin Hyman edition.