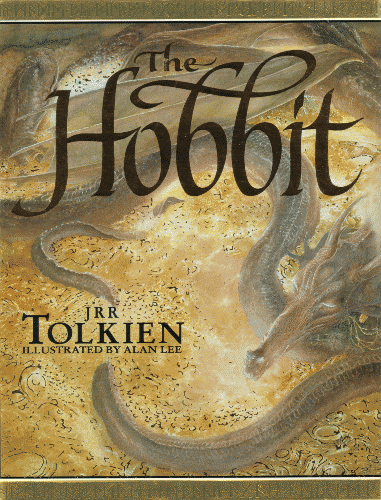 The Hobbit
J.R.R. Tolkien
Illustrated Edition 1997, 4th Impression
HarperCollins
London
ISBN 026110330X
Hardback in dustwrapper
Illustrated by Alan Lee
Page Ref.: None

Notes
Includes Thror's Map and the Map of Wilderland on integral pages, together with colour and black & white illustrations by Alan Lee throughout.

Seven impressions issued.*

The dustwrapper was modified to match The Lord of the Rings and The Silmarillion illustrated editions. Most of the changes were to the text on the spine, but small changes were also made to the runic border.

Copies of the 4th, 5th and 7th Impressions have been seen with both this dustwrapper and that seen on the 1st-3rd Impressions of the HarperCollins edition. The copies in the earlier style of dustwrapper are probably those sold by BCA, and lack a price on the front flap.

*Copies of the 10th Impression have been seen with dustwrappers using this design and that used from the 10th Impression onwards.

This edition appears similar to the Dealerfield and Ted Smart editions at first glance, but can be identified by the fact that it has a green cloth binding rather than the illustrated paper-covered binding used by the book clubs.