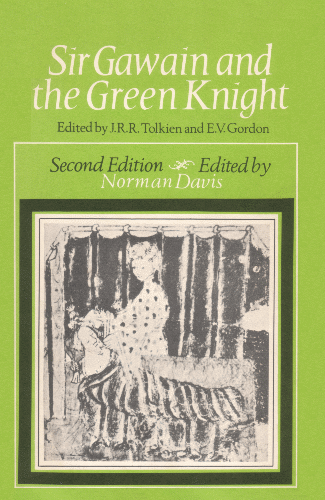 Sir Gawain and the Green Knight
Edited by J.R.R. Tolkien and E.V. Gordon
Revised by Norman Davis
2nd Edition 1967
Oxford University Press
Oxford
SBN 811479/7/67 (from 1967)
ISBN 0198114796 (from 1972)
Hardback in dustwrapper
Cover illustration: The Lady of the Castle visits Sir Gawain
Page Ref.: p.286

Notes
Sir Gawain and the Green Knight is a scholarly edition of the Middle English romance. Using a number of sources of information, including Tolkien's later notes on the subject, Norman Davis revised Tolkien and Gordon's earlier work - largely rewriting the Introduction, Notes and appendices on Metre and Language in the process.

Reprinted in 1968(?) and 1977, and probably several more times as well. The size of the book (but not the text) was reduced for the reprints, from 22.2x14.4cm to 20.8x14.0cm - because the hardback edition was printed at the same time as the paperback edition.

Precise details are unavailable, but at least some of the paperback impressions were also available in hardback format. For further information see the impression details for the 1968 paperback edition.