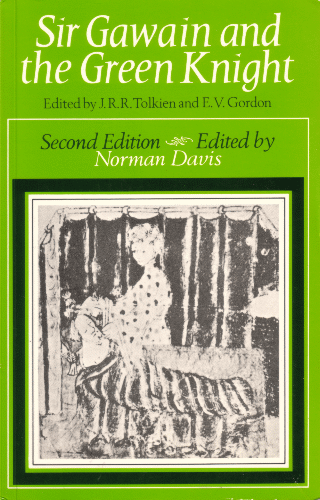 Sir Gawain and the Green Knight
Edited by J.R.R. Tolkien and E.V. Gordon
Revised by Norman Davis
1st Paperback Edition 1968
Oxford University Press
Oxford
SBN 811486/6/67 (1968)
SBN 198114869 (from 1969?)
ISBN 0198114869 (from 1972)
Paperback
Cover illustration: The Lady of the Castle visits Sir Gawain
Page Ref.: p.287

Notes
Sir Gawain and the Green Knight is a scholarly edition of the Middle English romance. Using a number of sources of information, including Tolkien's later notes on the subject, Norman Davis revised Tolkien and Gordon's earlier work - largely rewriting the Introduction, Notes and appendices on Metre and Language in the process.

Full list of impressions not available, but includes:

1st Impression 1968*
2nd Impression 1969
3rd Impression 1970
4th Impression 1972 [Corrections made to text]
5th Impression 1975
6th Impression 1977*
7th Impression 1979
8th Impression 1983
9th Impression 1984
10th Impression 1985
11th Impression 1987**
12th Impression 1989
13th Impression 1991
14th Impression 1992
15th Impression 1995
16th Impression [Date unknown]
17th Impression [Date unknown]
18th Impression [Date unknown]
19th Impression [Date unknown]
20th Impression [Date unknown]
21st Impression [Undated***]

* Denotes hardback copies bound in addition to paperback copies – more hardback reprints are likely.

** The 1987 Impression is not recorded in later impressions.

*** At some time after the 15th Impression 1995, OUP changed the way that impressions were recorded - from a list of years to a simple number line.