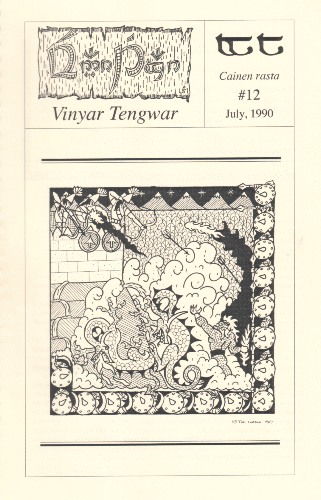 Vinyar Tengwar
Edited by Carl F. Hostetter and Jorge Quiñonez
Issue 12, July 1990
The Elvish Linguistic Fellowship
Crofton / San Diego
ISBN: None
Magazine
Cover illustration by Tom Loback
Page Ref.: None

Notes
Nole i Meneldilo: Lore of the Astronomer, an article by Jorge Quiñonez that includes an extract from Tolkien's manuscripts at Marquette University that relates star names in The Silmarillion to 'real world' planets. See pp.5-15, but especially page 8.

Also contains the article Narqelion: A translation by Paul Nolan Hyde - this is a summary by Jorge Quiñonez of PNH's article in Mythlore 60. It includes the text of the poem and an English translation.

The image opposite is from the 2005 reprint.