Search the Site
Advanced Search
Links to Bibliography Pages
1910-1937 - The Early Years
1937 - The Hobbit
1938-1953 - The Middle Years
1954-1955 - The Lord of the Rings
1955-1973 - The Later Years
1974-1990 - After Tolkien Part 1
1991-2010 - After Tolkien Part 2
Boxed Sets & Books in Slipcases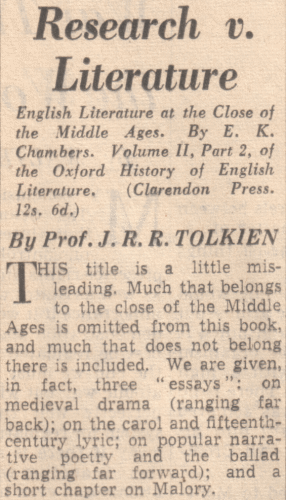 This period lies between the publication of Tolkien's best known works: The Hobbit and The Lord of the Rings. While Tolkien spent a great deal of time working on both The Lord of the Rings and the writngs that would eventually be published as The Silmarillion, he was also writing and publishing a wide variety of other materials.
Within this section of the site there will be something of interest, no matter what your interests - Farmer Giles of Ham, Leaf by Niggle, The Homecoming of Beorhtnoth, poetry, various "academic" items and some newspaper pieces.
The image opposite shows the opening paragraph of a book review by Tolkien, published in The Sunday Times on 14 April 1946.
If you are looking for new, secondhand or out-of-print books then AbeBooks UK may be able to help.
Alternatively, you can search and order through AbeBooks.com.