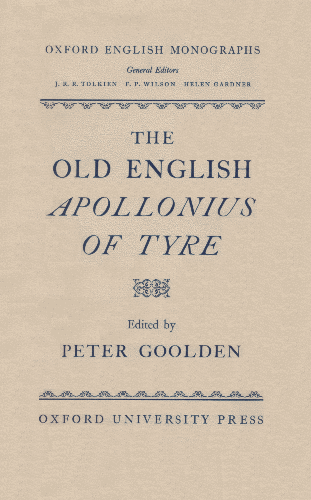 The Old English Apollonius of Tyre
Edited by Peter Goolden
1st Edition 1958
Oxford University Press
London
ISBN: None
Hardback in dustwrapper
Not illustrated
Page Ref.: pp.307-308

Notes
Contains a one paragraph prefatory note by Tolkien explaining the delay in publishing Goolden's edition and justifying its publication despite the appearance of Dr. Josef Raith's edition in 1956.

This is volume six in the Oxford English Monographs series. Tolkien was one of the General Editors for the series.

Goolden says in his introduction: "I am also indebted to the editors of the Oxford English Monographs for undertaking the publication, especially Professor J.R.R. Tolkien who kindly suggested revisions in presentation and style, and these improvements are highly valued."